The PAC Conference saw the first ever Gamechanger Awards, celebrating young people for their inspiring work to make their communities safer, fairer places

In partnership with Co-op, the Gamechanger Awards are a celebration of the inspiring work of the Peer Action Collective (PAC), a ground-breaking network of young people, working to conduct research and use it to make change in their local communities.
Young researchers have come together at an event held in Liverpool to share what they've learned so far about violence – and about what needs to change to make their communities fairer places. A full report will be launched in March 2023.
Ten inspiring young people and projects won Gamechanger awards for their incredible commitment to making change.
We're proud to announce that young people have won the first ever Gamechanger Awards in recognition of their work as part of the Peer Action Collective (PAC).
Gamechanger Awards celebrate the work of ten incredible young people and projects, who are part of PAC, a ground-breaking new youth-led network, which is funded by the Youth Endowment Fund, the #iwill Fund (a joint investment between The National Lottery Community Fund and Department for Digital, Culture, Media and Sport) and The Co-op. Through the programme, over 120 peer researchers have listened to over 4,500 young people, recording their experiences of violence and finding out what needs to happen to make their area a better place to live. They've also been working with local partners to turn what they've learned into action.
Below you can read more about the winners, announced at the PAC Conference held in Liverpool on 8th December 2022. The ceremony was held in partnership with Co-op in front of an audience of local leaders and other young researchers.
Personal growth: David Mitchell, EFL Team
Throughout his time with PAC, David has come on leaps and bounds in terms of his confidence and leadership, whether this be conducting interviews to delivering workshops and interventions on his own. David started as a peer researcher but through his passion, determination and hard work, he has worked his way to becoming PAC support officer where he will play a vital role in supporting social action. David is working on a project with Wetherby Young Offenders institute, where he is speaking to young offenders around what difference they want to make to create a Yorkshire wide social action project.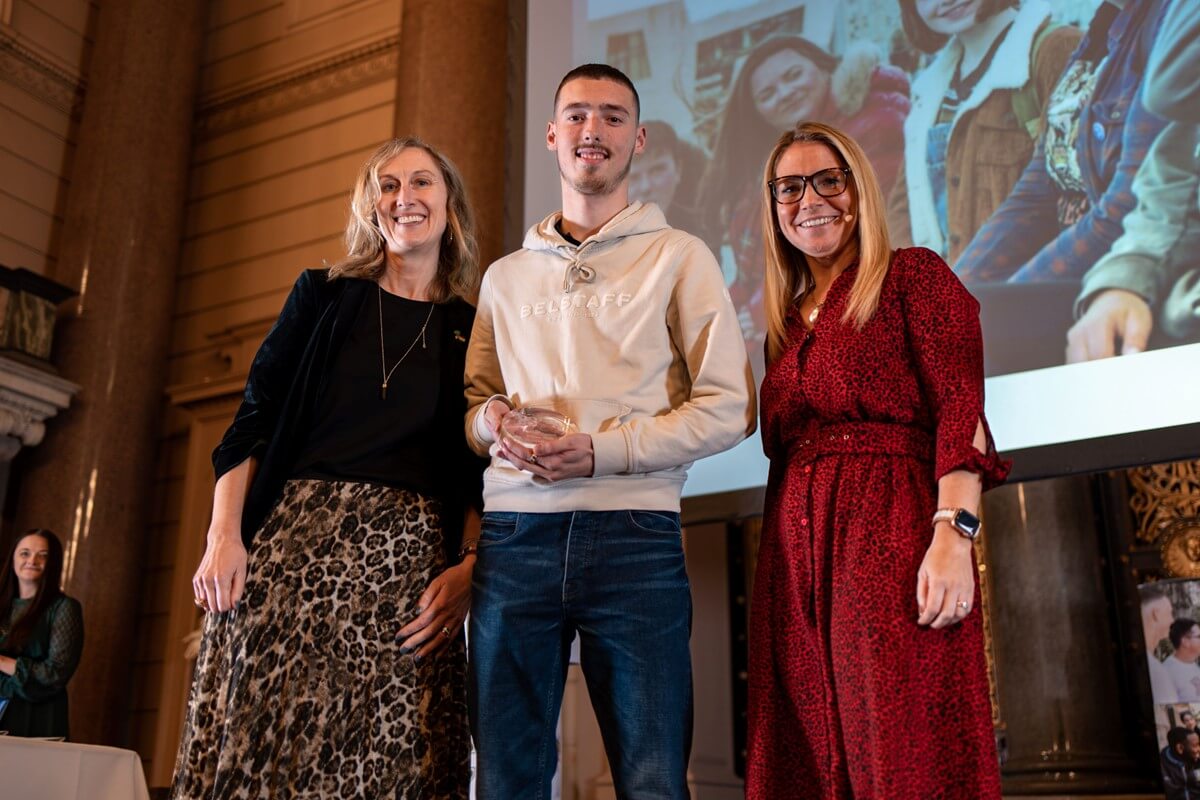 Most motivational: Hamaam Shire, Birmingham Youth Service
Hamaam Shire is the person to keep the group laughing and in good spirits, his always upbeat and very funny. He lights up any room, he's not afraid to ask questions and contributes with good ideas regularly. He is a passionate person who has dedicated all his life to supporting young people and tackling issues such as, youth violence, mental health and climate change. Researching the influences that can lead young people to become involved with youth violence, Hamaam and the team are working on social action that responds to the issues raised, from engaging with other youth voice initiatives like the Youth City Board, to creating podcasts, to creating more opportunities to engage in sports.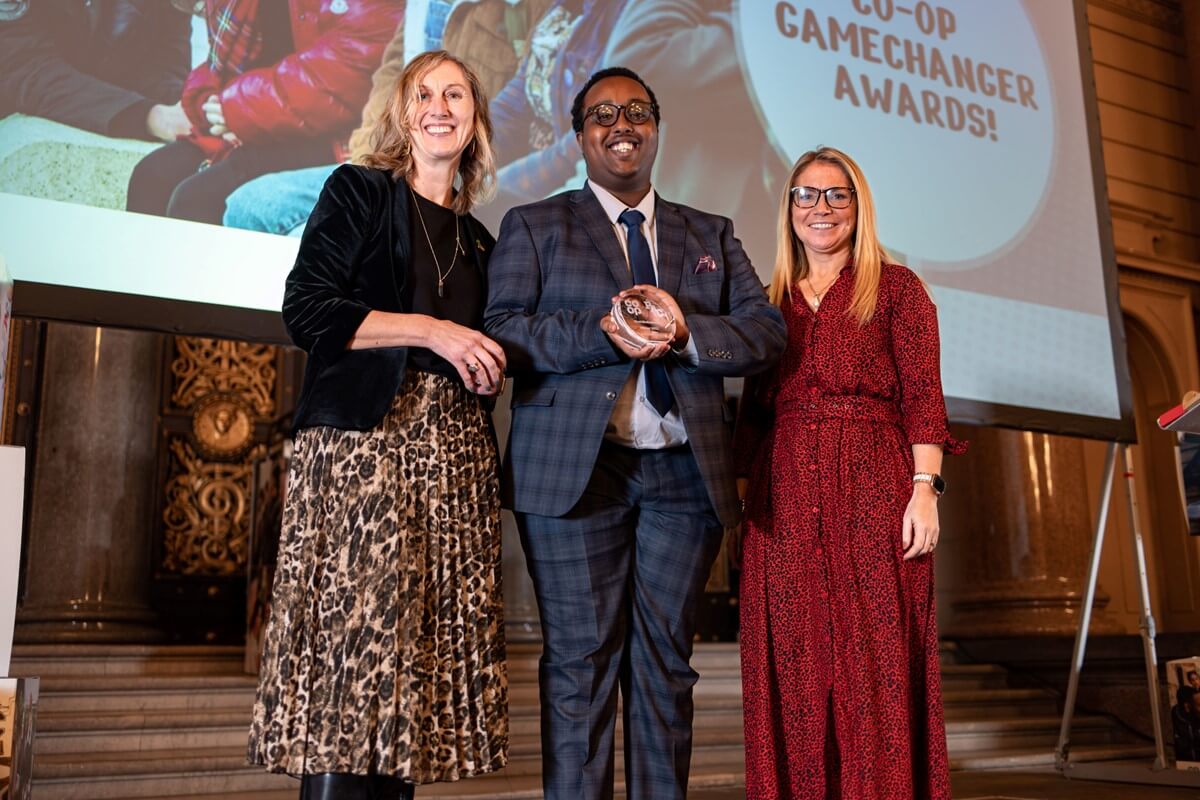 Team player: Caitlin Schutt, Street Games
Caitlin is a dream team member, working incredibly hard not only in her own role but in also supporting some other team members to grow and develop in their confidence. She has gone above and beyond as a social action lead researcher, helping to ensure that social action is developed based on research findings and spread across the region. She steps out of her comfort zone to support her team, with work including ensuring that there are safe and youth friendly spaces for young people to spend time in, including their local MUGA.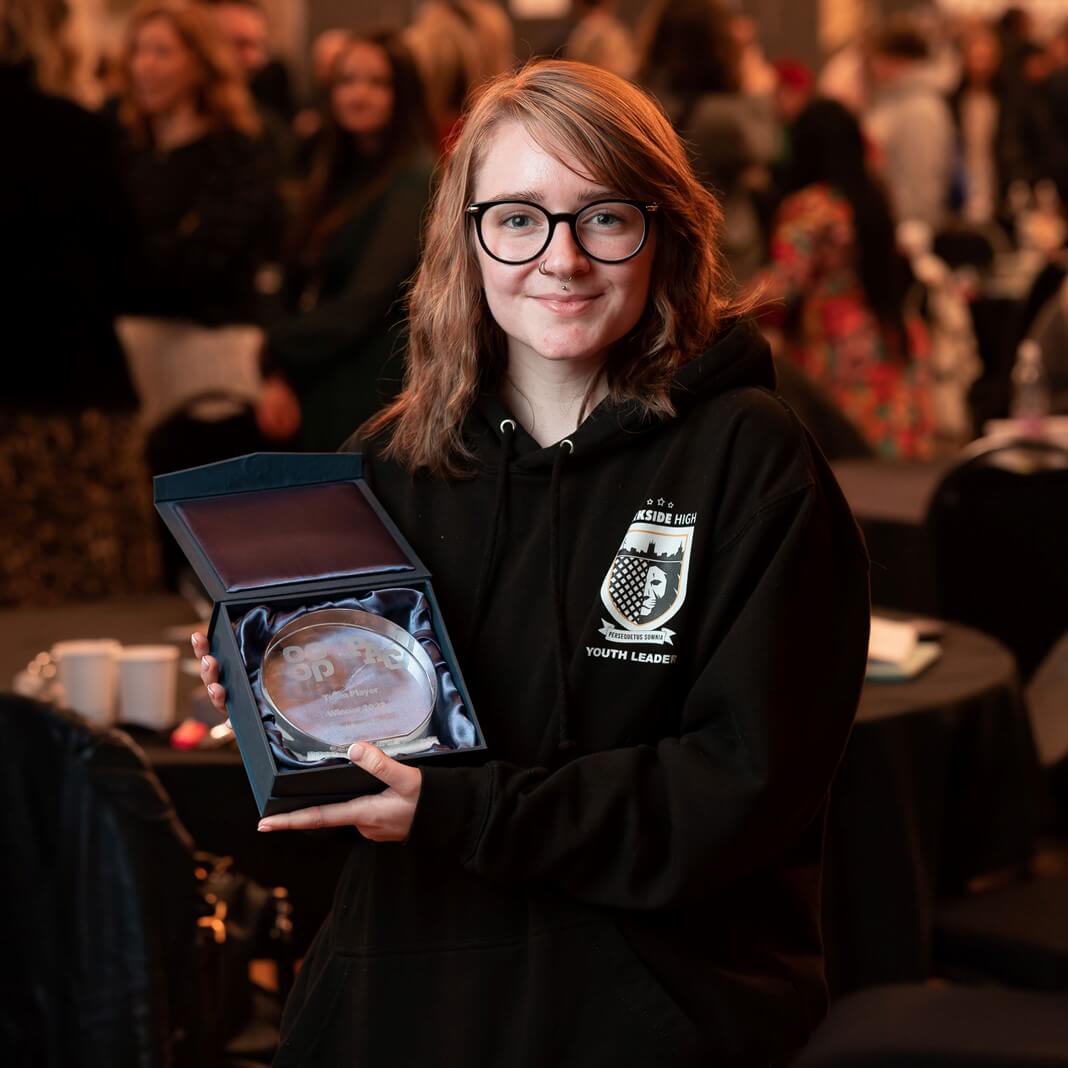 Inspirational leader: Rose Davenport-Randell, Volunteering Matters
Rose is everything you want in a leader; she is passionate, dedicated, kind and thoughtful. She has been consistent in her participation, going above and beyond to work on weekdays, balancing her college commitments. While other members of her group struggled with personal issues and took time away, Rose was a consistent presence, and a crucial pillar of stability. Her leadership skills meant that her team members always came back with ease, and a positive, welcoming environment was always maintained. She has played a pivotal role supporting changemakers in their efforts to reduce violence towards LBGTQ+ young people.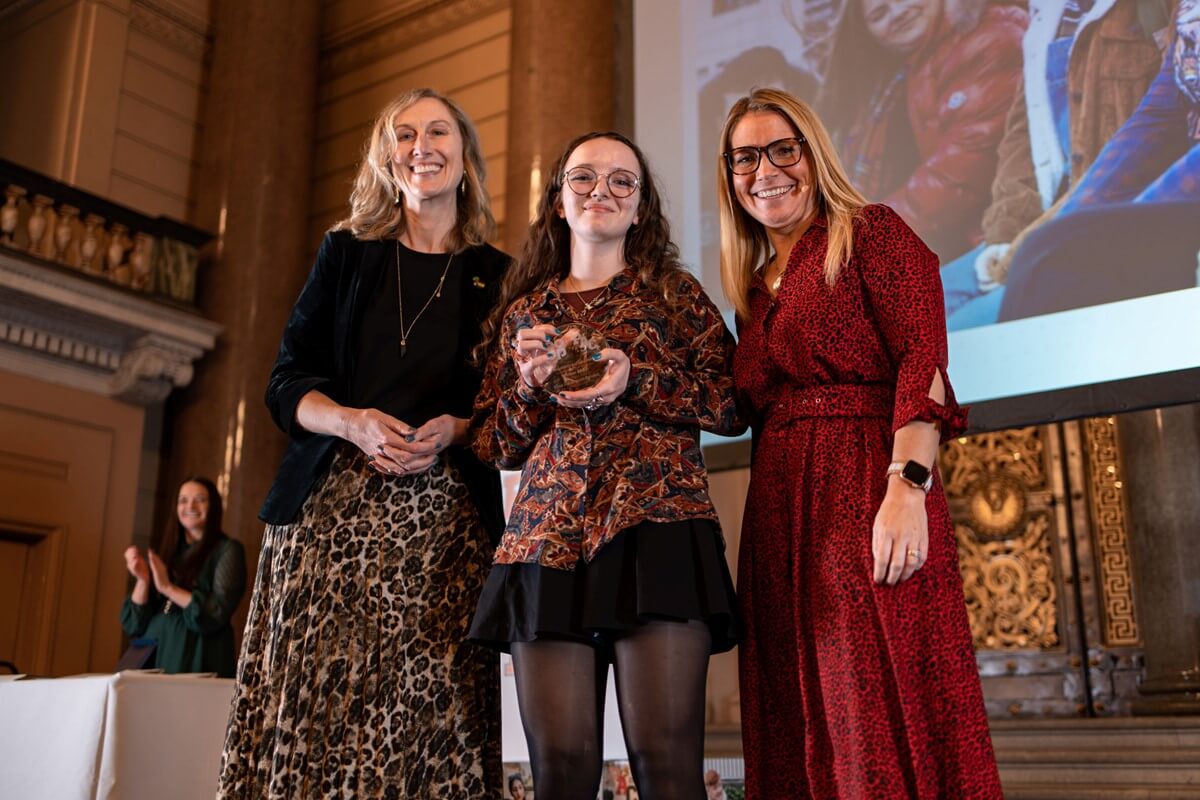 Networker Extraordinaire: Ace Merriott, Unloc, working with Artswork Peer Action Collective
Ace has pushed outside of their comfort-zone to connect with range of different stakeholders to increase the impact of their team's social action project, called the Teal Umbrella, aiming to destigmatise talking about experiences of sexual harassment. The project was promoted by an article in a local newspaper in the area as a result of Ace's networking skills which led to Ace giving an interview about their project. Ace didn't stop there; they spoke to the crime commissioner about the current projects the council are running and how the voices of the young people from the Teal Umbrella can help influence change to make young people feel safe. Through this the team are now in talks with a range of different mental health services in the area to help put young people's voices at the heart of their practises.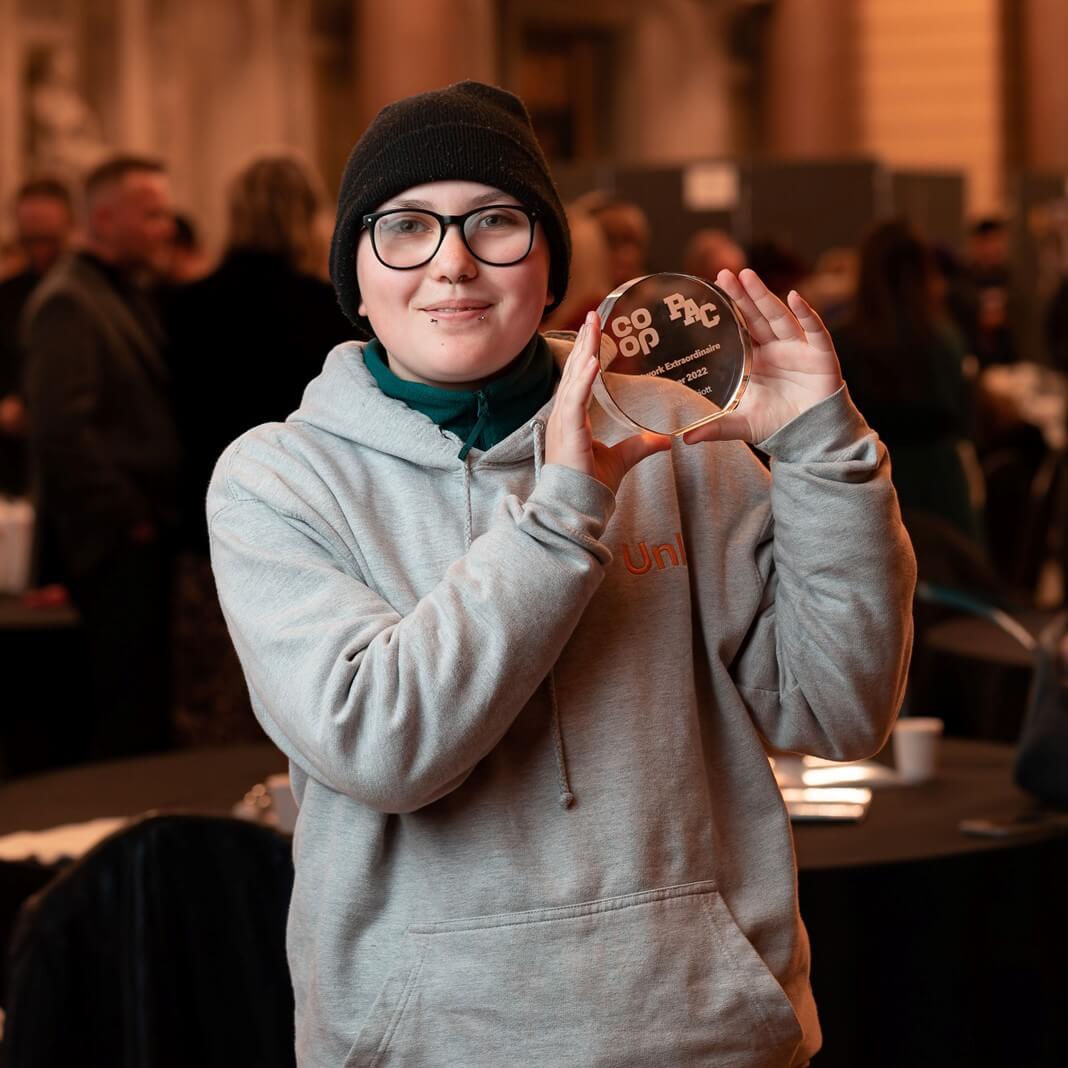 Uncovered unique insights: Lambeth Peer Action Collective
The LPAC team took a careful and rigorous approach to deciding their research focus, reflecting on their collective experiences of youth violence and conducting an article review to select a powerful overarching research question. As a result, the team spent the entire project exploring the relationship between living conditions in and around social housing estates in Lambeth, and levels of youth violence. Through this approach, and working with a team of embedded researchers, the team have been able to glean novel insights into the experiences of young people in Lambeth, shining a light on the root causes of youth violence in the area. Their findings are being written up into a final report that will support a manifesto of demands that will provide the basis for their ongoing campaigns. This approach will equip the young people who make up LPAC with the tools required to secure real change, for good.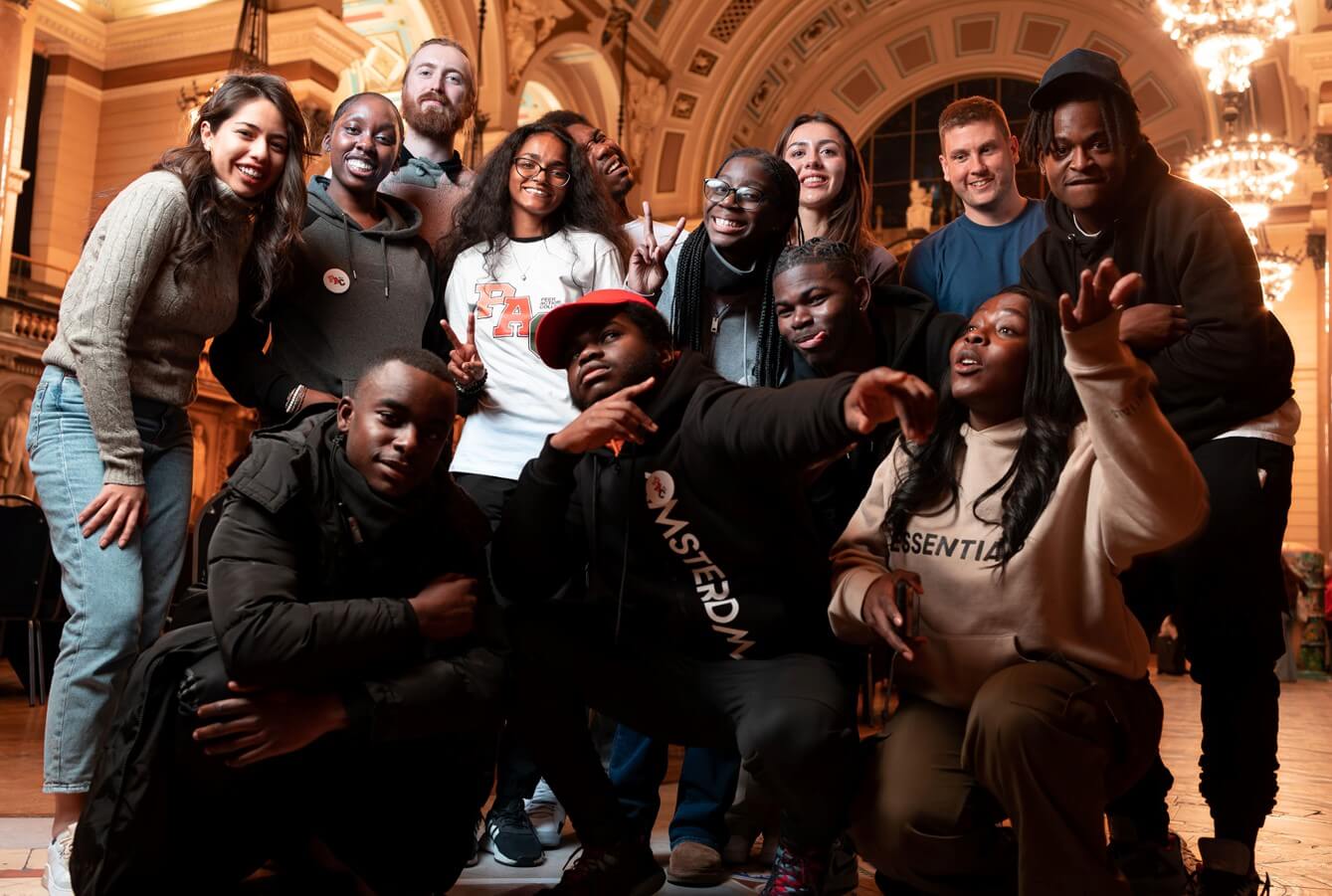 Most determined team: YPAS Peer Action Collective
YPAS have worked tirelessly during this project, keeping up a shared vision and ambition for their project which did not cease even during times of difficulty. They supported each other and took on different leadership roles within the team to drive forward both research and action, giving 100% of their effort to make Merseyside a better place for young people. They do this with infectious enthusiasm, always wanting to push further, learn more and ultimately make change. They have co-ordinated their efforts across Merseyside so that the work they are doing links with regional priorities, aiming to create a 'Merseyside model' for youth violence from the mouths of young people themselves and working with the Merseyside Violence Reduction Partnership to ensure their research findings influence their work.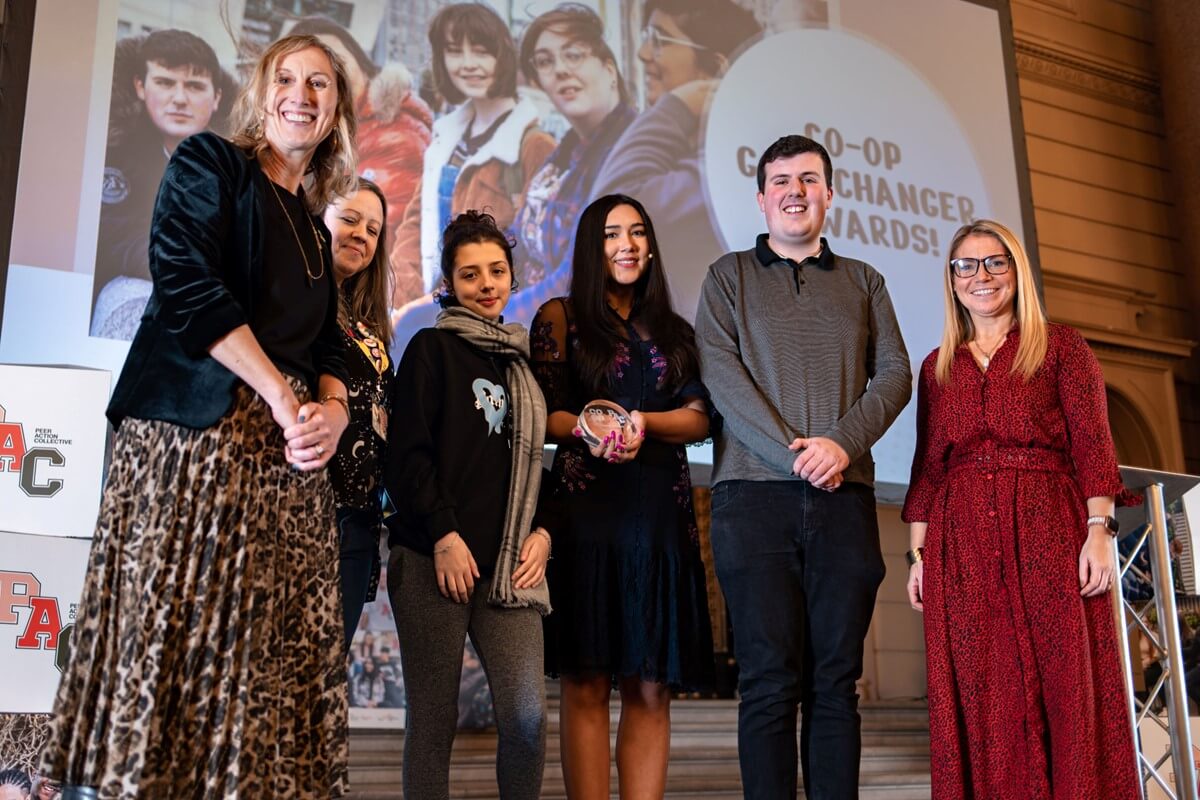 Best teamwork: Young Devon Peer Action Collective
Young Devon shows everyone what it means to be a strong team unit. They have been consistent the entirety of the project and have shown how hard-working and courageous the team is in their work to make change. They light up the room with their presence and are always available when other partners need some guidance and support from someone outside of your own organization – showing they are not only a team at their base but also a team in the wider PAC community. They constantly participate in learning sessions so that the entire network can develop. Despite being spread throughout the region, they supported each other and worked out different ways of achieving their goals.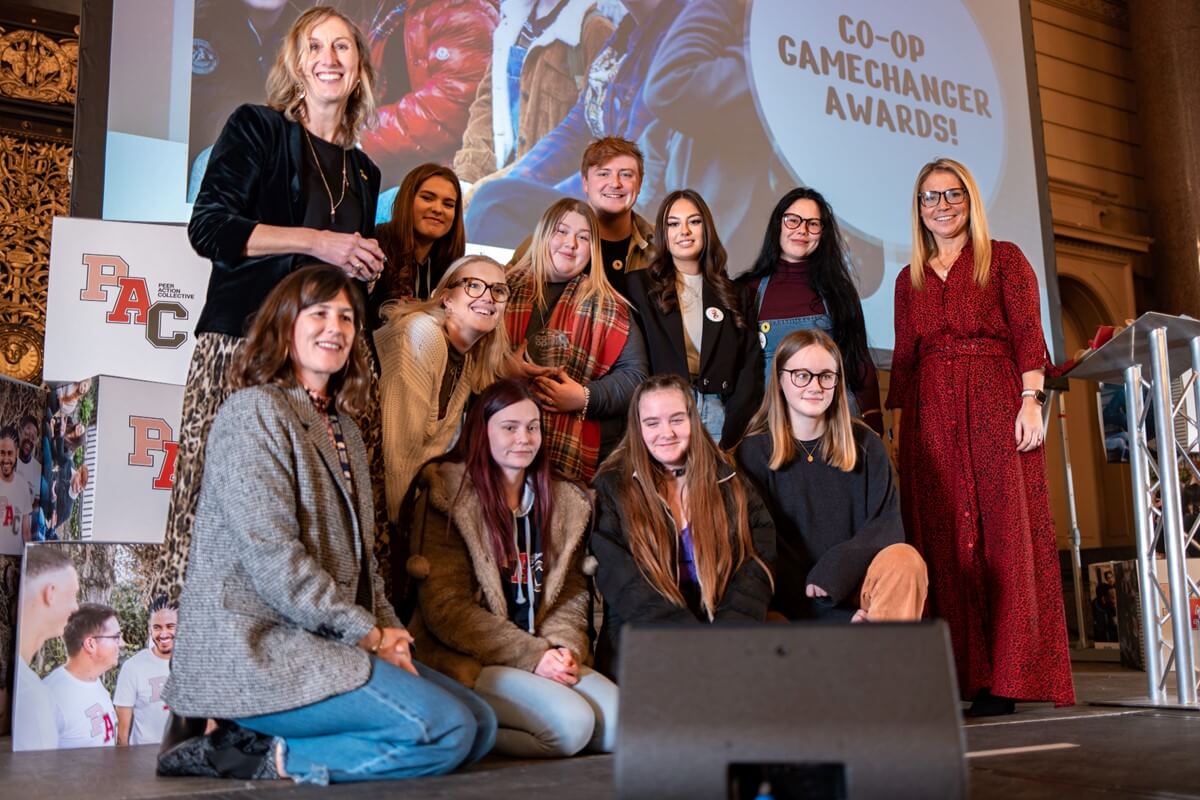 Most innovative social action: Bright Futures Changemakers at Youth Focus North East
This award goes to the Bright Futures Changemakers (The Female Dreamers) for most innovative social action project. The group have decided to tackle sexism and harassment, developing this project to ensure the project resonates with young people, specifically young males. The group thought outside the box to ensure the project is relevant, creating small and pocket sized "are u sexist" cards, which can be carried around by young people to equip them to recognise sexism in your behaviour as well as in others and offering alternative ways of acting. The Peer Researchers working on this topic built up strong research findings to drive forward this social action project, building up strong and trusting relationships with young people and wider family members.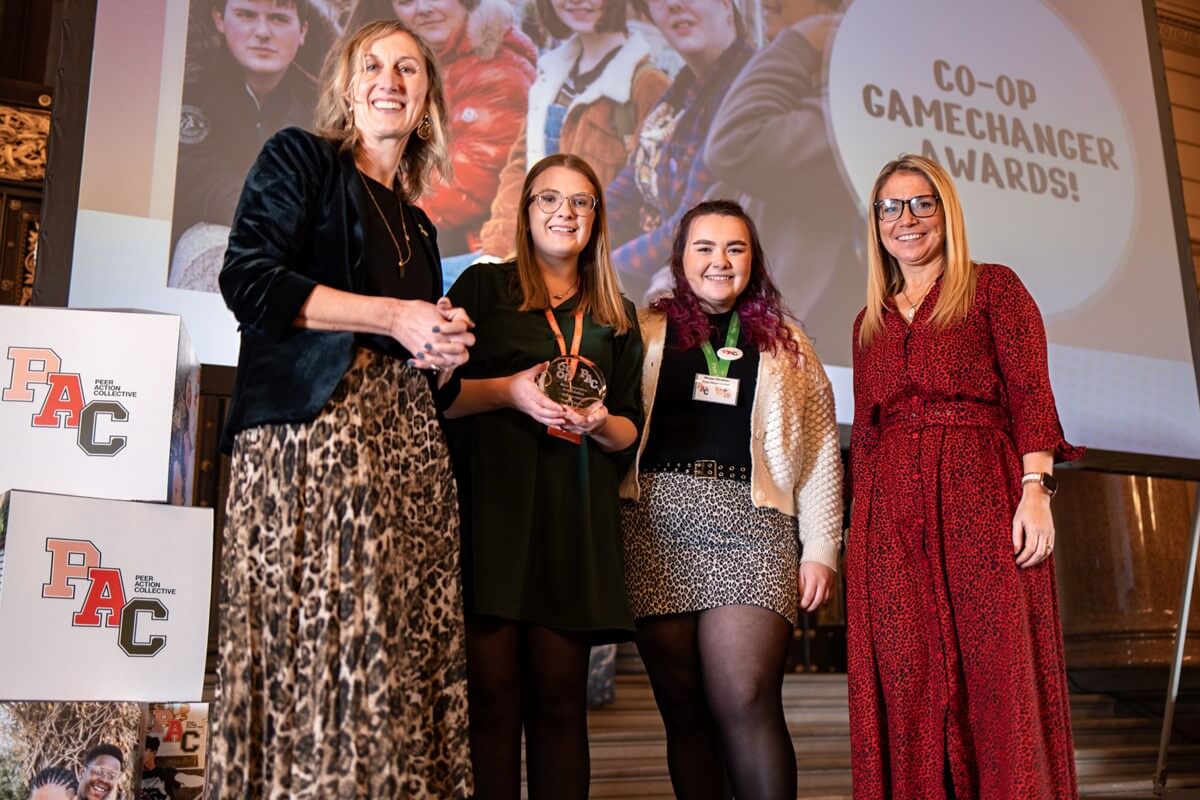 Most inspiring project: PAC Cymru Peer Action Collective
PAC Cymru has led several inspirational projects, including their work alongside the Violence Prevention Unit to develop a strategic framework and multi-agency framework for the prevention of violence across Wales. The framework, which will be published in Spring 2023, will influence violence prevention across the entire country, demonstrating the incredible potential young people have to influence violence reduction at the highest levels. They are also carrying out excellent work in youth provision, with a project to reinvigorate a youth club within St Melons, Ely, a region of Wales known for being abandoned and rejected by multiple youth clubs within the city. Developing a youth bus service to reach into the Welsh valleys and reach young people often neglected by public funding has provided an excellent opportunity for many young people. This work is inspiring as it is going straight to the source, discussing what young people need – with young people.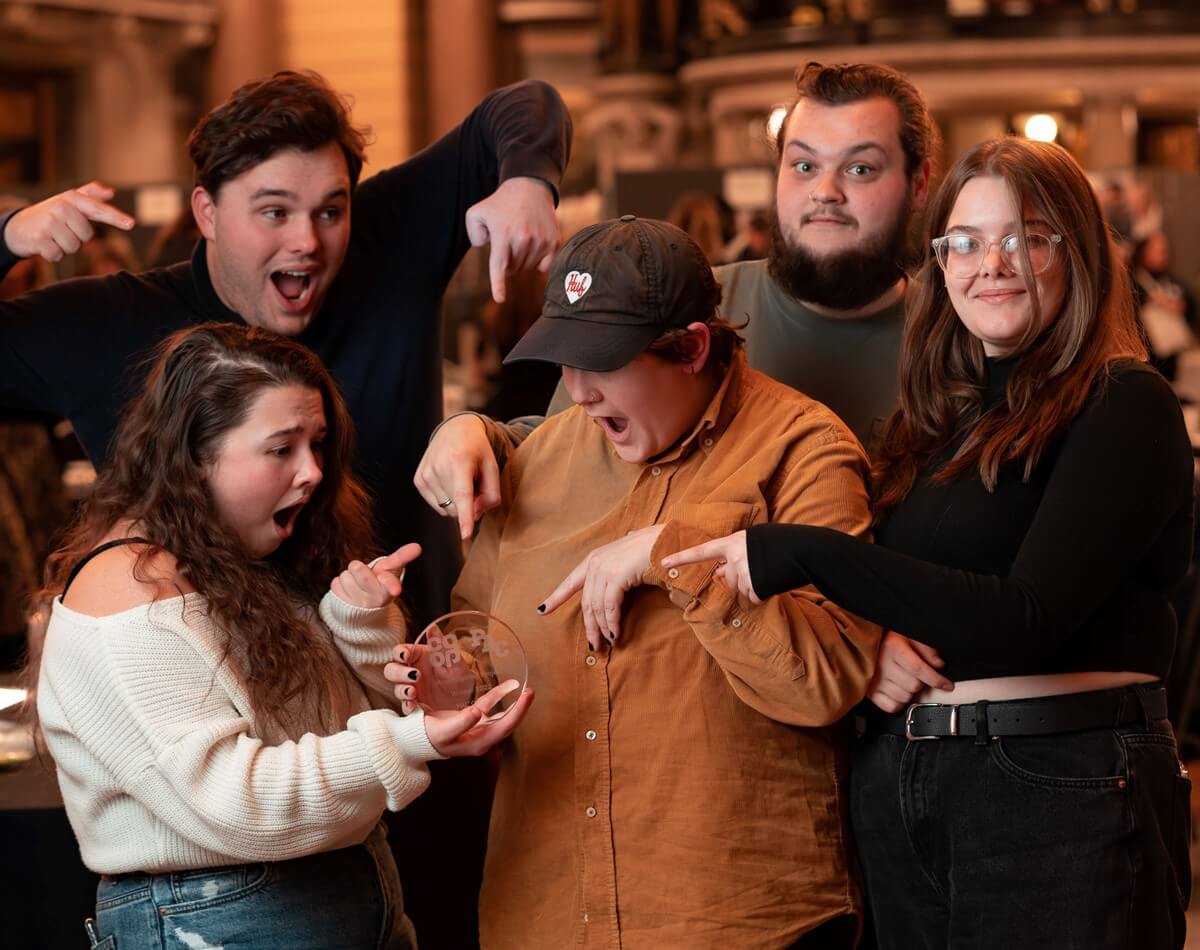 To find out more about Co-op's work with young people, please visit coop.co.uk/gamechangers